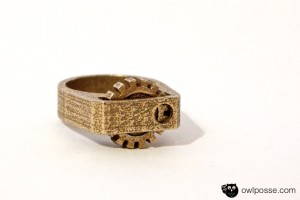 Just this week I shared one of my jewellery designs on the Shapeways forum as I was pretty excited to arrive at the final design, ready for sale among my other items still in the works. I didn't expect Shapeways to put the pictures on their Tumblr account though. I was so pleased that they wanted to share it and I also didn't expect so many reblogs!
I want to release this ring and others soon, but aren't quite ready yet. If you'd like to know when one of them can be yours, please subscribe to the Owl Posse mailing list and you'll be one of the first to know when it goes on sale. The mailing list is not a frequent bombing of emails, and I take your privacy seriously. So what are you waiting for? :)
Thanks for the support and encouragement, it's great to know others share my enthusiasm in fun jewellery!