These days I get a lot of questions about 3D printing, and how my jewellery is made using this super sweet technology. I thought I'd share a little more of the process in this post. I hope it answers some of the questions, and encourages curious ones to take the plunge and order their own creations from an online 3D printing service.
I'm going to use a brand new item in my shop (hooray!) for this post. You can check it out in my store here!
I wanted to create a very simple design to have as part of my jewellery line. I am a big fan of industrial, minimalist pieces when I'm looking to buy jewellery and accessories. I wanted to use 3D printing to create a classic design, the banded ring.
I use Blender to model my designs. It's freeware, and available on Windows, OSX and Linux. There can be a steep learning curve with this software depending on your experience with software in general, but the wealth of online documentation and video tutorials more than makes up for this.
This design was relatively simple enough to model, it uses simple geometry and is quite low in the polygon count as you can see in the screenshot below (you can click any of the photos on this post for a closer look!).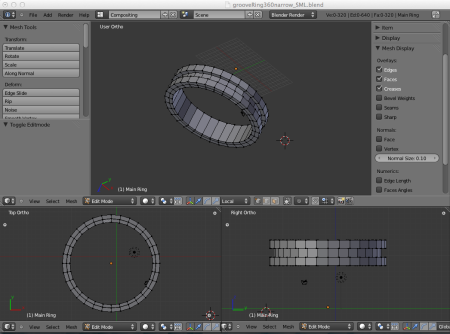 Once I am happy with the way the model looks, I export it to STL format and upload to an online 3D printing service. My favourite by far is Shapeways. Their customer service, community feel and website are second to none.
I ordered this ring in both stainless steel and silver. I am sharing the first time I received this ring in silver (earlier this week). I was very excited!
When I opened up the package, my ring came in a handy zip lock bag. Cute!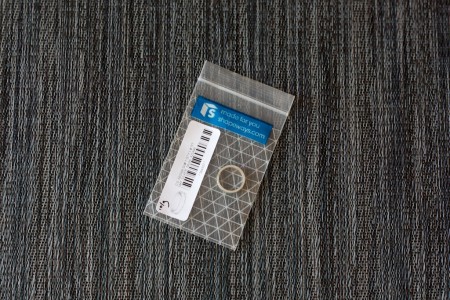 This particular print was requested unpolished. This is because I need to do post production work on it, so the polishing would have been ruined anyway. If you order it polished, it's only a little bit extra money and the results are beautiful.
Here it is taken out of the packaging below.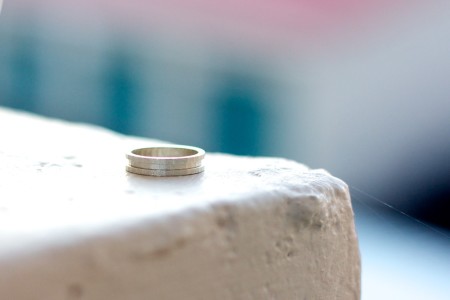 Pretty cool, huh? You can even see a hint of the polygon edges! I left them intact on the inside of the ring for some personality.
The first step is to sand the edges to make them smooth. I do this with a combination of fine sandpaper and a Dremel rotary tool. It's fiddly work but worth it.
Once that's done, it's time to insert the band! I found the easiest way to do this is using oven bake polymer clay. It comes in all the colours of the rainbow and is so great to work with. You can even buy glow in the dark and pearlescent varieties!
For this ring, I chose a pearlescent teal colour. I thought it would look great against the bright silver. This is the clay below in raw form.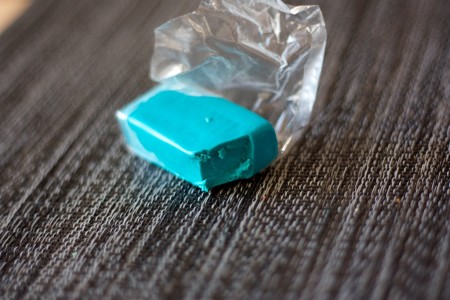 The process is a matter of 'smooshing' the clay into the middle groove that I designed in the ring. Using a scraping tool, the edges get cleaned up and all you have left behind is the clay clinging into the groove.
Below pic is me 'smooshing' the clay in!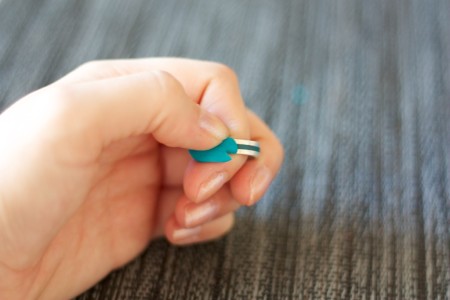 Once it's looking as neat as possible, I chuck it into the oven at 135 degrees Celsius (275 degrees Fahrenheit) for 10-15 minutes to harden.
Once it's out and cooled off, I sand the band down level with the rest of the ring (the clay sometimes expands as it hardens) and give it a quick polish with the Dremel.
You can see the finished product below.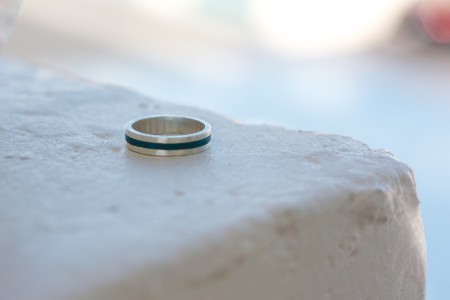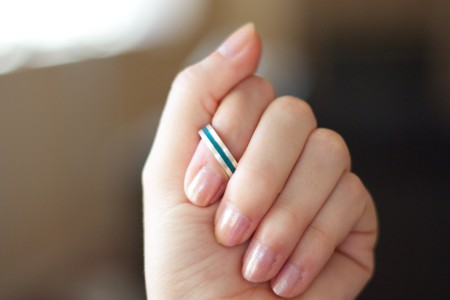 This ring can be time consuming to create, however the 3D printing process takes a lot of steps, danger and tools out of the product completion workflow. It's also a lot of fun to design something and have it turn up in the mail in a couple of short weeks!
If you'd like to purchase one of these rings, or look at other items I have for sale, check out my shop page.
I hope this post was informative, I had a lot of fun documenting the process from conception to the final piece! Consider including 3D printing in your life for the joy and innovation it can bring (dorky end note I know, but 3D printing is such a cool manufacturing technique set to change the world) :)