I bought a pair of old armchairs from Chapel Street Bazaar almost 2 years ago, with the good intention of re-covering them to give them new life. They were $40 each, and in such fantastic condition frame/springs wise.
Cue metres and metres of fabric bought from different places, a dozen changes of mind and I was still no closer to completing them. They would sit in my (three, so far) living rooms, causing me to blush whenever anyone sat on them as they looked so dreadful (but were so comfy!)
I stumbled onto the delightful Teegs and Lara from Ink and Spindle (who work upstairs in the same building I do) a year ago, and loved their hand printed fabric so much that I finally bought 5 metres of the stuff in July this year. Teeg's Lace Fans print in robin's egg colour seemed like the perfect choice. Hooray!
It took me a further four months to get around to the sewing part. I bought new foam for the seats and backs as the original foam was just in pellet form, stuffed into cushion shapes all lumpy and such!
I'm really happy with the end result, the blue goes so nicely with my rather nineties apricot coloured tiles.
What do you think?
Before: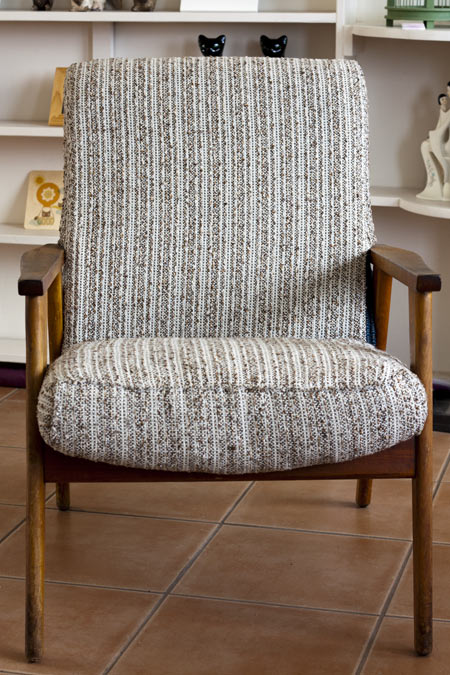 and after: